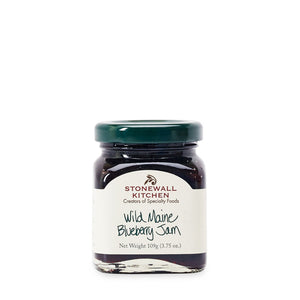 Stonewall Kitchen
Wild Maine Blueberry Jam - 3.75 oz.
Regular price
$ 4.99
$ 0.00
Unit price
per
Suggested Uses
Take peanut butter and jelly sandwiches to a whole new level. Try some on a warm biscuit or a dollop on a slice of pound cake. Add whipped cream for a sensational dessert or swirl iit nto plain yogurt for a healthy breakfast or snack.
Take the sweet intensity of wild Maine blueberries and add the perfect amount of sugar and a splash of lemon to get our top-selling Wild Maine Blueberry Jam. Bursting with flavor, these tiny, hand-raked Maine blueberries create the ideal wild blueberry jam to spread on toast, pancakes and PB&Js. Try our Maine blueberry jam and you'll be transported to the coastal berry patches of our beautiful home state.
Mini size is ideal for party favors
Top Seller Since 1991
Non-GMO